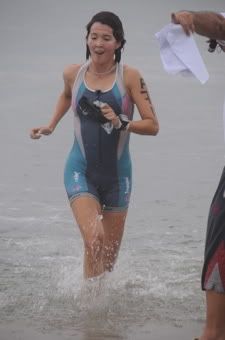 Who says politics don't have their share of head-turners?
Recently, the the world caught sight of
Gov.
Sarah Palin
from Alaska in the US who was a Vice-Presidential aspirant. The late Pakistani
Prime Minister
Benazhir Bhutto
was included in a US magazine's list of the "
World's
50
Most Beautiful
People"
(and reputedly drove around in her sports car back in college
in
Harvard
!).
Then from the Republic of the Philippines;
Sen.
Pia S. Cayetano
who is described by her website as
"
the youngest woman elected in the history of the Philippine Senate. A lawyer, entrepreneur, triathlete and mother of two
. . . "
She reminds me of another stunning triathlete and model, a
wahine
straight from Hawaii;
Lokelani McMicahel
who's
also
"the youngest female to finish the
Hawaiian Ironman"
(I wouldn't be surprised if she had

Filipina

roots too!) -