As I'm always on the lookout for

functional, durable

but

inexpensive

gear, I've had this headlamp roughly about three months now and so far, it's proven to be quite useful in satisfying the conditions I've mentioned.
Although the Energizer brand has been known more for their battery products for consumer electronics, for the past couple of years they've been releasing several lines of lighting gear for both civilian and military applications.


I saw this model marketed as an "advanced" headlamp for outdoor and all-weather use. It has several LED lights and marked with an IPX-4 rating standard which means that it is water "splashproof" and can handle the rain. That certainly got my attention.
IMPRESSIONS AND DESCRIPTION
Headlamps are neat. Their obvious difference from hand-held flashlights is that they free your hands and focus the brightness to where your attention is, like when performing certain tasks. I had an old, cheap one from an unknown brand that ran-off of two AA batteries and while the brightness and quality of its light left a lot to be desired, it did serve me well especially during emergencies when blackouts and flooding were at their worst.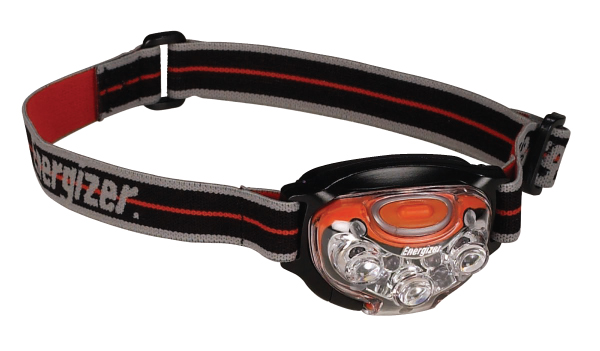 The light is in two parts: the main light itself and the strap used to retain it across your forehead.
First, the strap is an inch-wide band made from elastic cloth and is adjustable to fit your head's circumference. No surprises there. It's a black band with a contrasting thin orange stripe in the middle with the "Energizer" brand written across it. The band could easily be replaced thru cut-outs in the attachment points. I would have preferred a brighter or more contrasting color to make the unit and your head more noticeable.
For the unit itself, it fits into the palm of my medium-sized hand and is relatively compact. If it had been any bulkier with the lens protruding out as with other cheaper or imitation brands, I might not have considered it. Being handy and small enough to fit into a small bag or pocket is always plus for any gadget.
It is made up of not one, not two, but a mighty group of seven, yes, seven, LED lights! LED lights are inherently rugged since they are not bulbs which could break and are more efficient in harnessing battery power. It operates in four modes and cycles in five clicks of the switch to be completely turned OFF.
The first click are for two small red LED's intended for up close work during night or low-light situations since red light apparently preserves your night-adapted vision more than white light does. The second click cycles you to three large white lights in an inverted triangle pattern for a tight "spot" pattern. The third click gives off two white versions of the smaller LED's and the last mode engages all five white LED's for a wide "flood" effect illumination.
Honestly, all I really need are three light modes and don't really care for switching too many times just to turn the whole thing off. I would have been just fine with three light modes engaged by four click cycles, but this light though has been growing on me. I didn't mind one more click of the switch as time went on.
I runs-off of three AAA batteries which fit snugly at the back of the unit and held in place by two little locks on both left and right sides. The locks are conveniently colored in orange and labeled "OPEN" with the appropriate arrow markings that intuitively tell the operator on how to open it. Inside the compartment too there is this thin strip of plastic film which as far as I can tell serves to retain the cap from being separated from the main compartment.
Finally, the lights can be angled to about thirty degrees downward to illuminate the ground in front of you which is especially useful when you're not focused to look up ahead. It also has a rubber pad to where it contacts your forehead so as not to make it slip.
I've been using this light during my night jogs. It stayed quite securely on my head despite the movement of running and sweat. The LED's were bright enough and I usually have it on "spot" mode which gave ample illumination.
As for its being weatherproof, it was with me during a slight downpour once and while I won't be swimming with it, I'm happy to confirm it performed as advertised standing up to the wet and moisture.
While it's not in the same league as the better known outdoor headlamp brands (Petzl and Princeton Tec immediately come into mind) it is certainly a useful bit of gear during the dark and even on some demanding situations. For its price point, it certainly is a nice addition to your emergency kit or recreational gear.
·
Just enough lighting and cycling modes
·
Readily available batteries
·
Inexpensive price point
·
The strip of plastic film retention in the battery compartment looks and feels flimsy
·
Strap could be wider and with a more noticeable design or color
scheme
·
I would have preferred one less light mode just to keep it super simple